Who is Khai Morgan??


From comedy clubs, to military bases, to churches to fundraisers.. Khai's quick wit and hilarious antics have earned him a loyal following up and down the east coast. He's clever and engaging with a unique point and a keen ability to improvise.  As soon as Khai hits the stage, audiences are drawn to his instant likability. He brings an energy to the stage that enables audiences to connect with Khai as he reveals stories of his life. Stories of parenthood, marriage, dating, church and other life
experiences.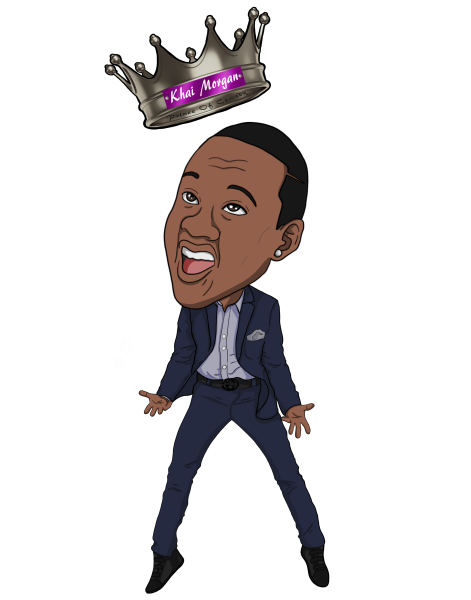 Recent Shows Clips

" Laugh to forget, but don't forget to laugh"

#BetchaDidntKnow Segments

A

bsolutely thrilling to work with my brother Khai Morgan true talent... great businessman looking forward to the next time.
What can I say about Khai Morgan?  Not only is he our host, but he is a partner, and a brother. Khai Morgan does things that most host won't. He will promote your event right along with you. Khai Morgan engages the  audience like no other.  He makes sure that everyone gets the full experience whenever he is on stage.  Khai leaves it all out there.  Thanks for all you do for #sillysaturdays and four brothers entertainment.  You are a class act. 

      Four Brothers Entertainment


"When I first met Khai Morgan in his early years of comedy I knew I was watching someone special.  His excitement, passion and determination were evident. It was obvious that he was no quitter.  His positive attitude speaks for how much he loves what he does.  He's a powerhouse and it is a delight to watch him grow!

                                  Sylvia Traymore

Khai gets it...He loves to make people laugh, and that comes through in his performance. He's fresh dressed like a million bucks...(in my SlickRick voice)... Khai is young, smart, and definitely funny. He's a true talent.
Peace and blessings...

                                                  Tone-X


Khai Morgan is what the comedian community would call a stand up act. His great ability to read his audience and deliver on impact. His stage savy is one of a kind delivering joke after joke. Khai definitely leaves his audiences purely satisfied.

 Comedian Antonie Scott



Khai Morgan is probably one of the hardest working up and coming comedians I know in the game. 12 yrs ago when I met Khai, I told him that he would be successful in this business. I remember when he first started doing Comedy he use to be very nervous, lol, well we all were. He use to wear dark shades onstage and I knew why, he was scared . I told him to remove those shades so that the audience can see your eyes so that they can connect with you. I told him to work on being diverse and stop being so vulgar.. He listened to me and has captivated crowds across the world. He have grown to be a great comedian, businessman, great father and all around great person. You will see a lot of him in the near future. I wish you nothing but the best .
                                                                  

      Degario Turner "Double D"
Comics come in many shapes and sizes and I have seen them all,  four years ago comedian Khai Morgan approach me and said he would like to work with me at Smitty's First Friday Comedy Show. And since then Khai Morgan has shown various types of funny and sometimes outwit himself on stage. I've seen it only take 10 seconds when he hits the stage for the audience to know they're in for one ridiculous roller coaster ride, and it is a ride that you have to keep coming back to just for the enjoyment. Last but not least, one that has got him to the top is his loyalty and being humble.  "Keep rocking it out my brother".      

        Smitty Smit